SizeGenetics Review
Product Overview
SizeGenetics is by far the best quality traction device on the market – what you'd expect from an FDA approved device. That said it's a bulky and time intensive form of penis enlargement best only for those that are looking to correct penile curvature or for those that can't use a water based hydro penis pump.
Last updated 6 July, 2023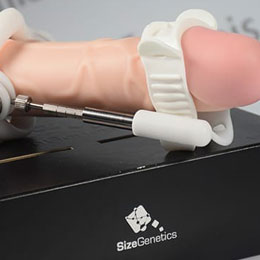 Pros & Cons
Excellent Build Quality (FDA Approved)
Poor Value for Money
Heavy & Uncomfortable
120 day money back guarantee
Quick Stats
4 Versions
to per month
120 Day Money Back Guarantee
1 Year Warranty
Want More? Keep reading for my full, in-depth SizeGenetics review!
Table of Contents
[ Hide ]
Detailed Overview
SizeGenetics is a penis extender – a type 1 medical device that is designed to gradually stretch and straighten your penis over a very prolonged period of time.
Unlike penis pumps which you generally use for 15-20 minutes a day, SizeGenetics and other penis stretchers of this kind are designed to be worn under your clothing for 5 or more hours daily.
As a result, having a product such as SizeGenetics that is FDA approved for quality whilst also offering a good level of comfort, highlights just a few of the considerations you should make when choosing a penis traction device.
SizeGenetics claims to:
be the most powerful penis extender on the market
increase penis size in both length and girth
have numerous endorsements from medical experts
correct penile curvature and symptoms of Peyronie's Disease
Type 1 medical devices such as SizeGenetics, Male Edge (which is notably owned by the same company), X4 Labs Extender (now discontinued) and Phallosan, are those that have been assessed by the FDA (U.S. Food and Drug Administration) and shown to present minimal potential harm to the user.
Although SizeGenetics is primarily marketed as a product designed for increasing the size of your penis, the power of penile traction also makes the SizeGenetics device a viable and medically backed solution for the treatment of penile curvature and Peyronie's disease.
Whether you're looking to increase the size of your penis or correct curvature of the penis (especially if that bend is greater than 20 degrees), SizeGenetics is definitely worth considering.
Keep reading to find out how to assemble and adjust your SizeGenetics device, the variety of accessories on offer, how SizeGenetics compares to some of the other penis stretchers on the market, and most importantly where to buy SizeGenetics ensuring you don't get stuck with a fake or poor quality copy!
Unboxing
As to be expected, the shipping packaging of SizeGenetics was as understated as other products within the men's sexual health nice, with zero mention as to the contents of the delivery box.
In terms of SizeGenetics shipping, it took around 8 hours for my order to be dispatched after making my purchase – they do state orders can take up to 24hrs to be processed (on the weekends especially), whilst if you order before 11am GMT they will dispatch your order the same day. For most outside the UK, especially those in the US, that'll mean dispatch the next business day in most cases.
In terms of the SizeGenetics delivery time, it took 2 business days to arrive via courier service – you can expect delivery in 1-2 days in the US, EU and UK, whilst those in other countries should take receipt of their order within 4 business days. I would suggest that if you don't live in a tier 1 country, be prepared for slightly longer delivery timescales.
Based on the official SizeGenetics website, whether your in Australia, Canada or even India or Dubai, due to the classification as a type 1 medical device, it doesn't seem as though there are many, if any countries that SizeGenetics cannot be shipped to from one of their central fulfilment hubs.
Once out of the shipping box the retail packaging of the SizeGenetics device is simple, sleek and understated.
A black cardboard sleeve sports the embossed SizeGenetics brand name and logo on the front. On the back you'll find an illustration of the device with key features labelled, along with a brief description of the SizeGenetics product and a rather confusing "duration of treatment" barchart which is supposed to show the incremental percentage increase over a duration of between 8 and 24 weeks.
On the side of the black retail box there is reference to the device being a class 1 medical device, customer support contact details, along with reference to the additional accessories and 16 way comfort tech system.
With the cardboard sleeve removed your presented with the black leather SizeGenetics case – this has a metal effect logo on the front, with a lock on the front to keep prying eyes away from it's contents.
Opening the leather case up and you get the device itself in each of its component parts which you'll need to assemble – this consists of a basal ring which is positioned on the groin over the penis, the holder which supports the head of the penis and allows you to mix and match the various comfort accessories, and a selection of dynamic traction elongation bars which vary the amount of force (between 900g, 1,200g and 2,800gs) and connect the basal ring and holder together.
Each part of the device itself (excluding the elongation bars), as well as the various comfort straps and supports come in sealed plastic bags so you know the device is brand new – like penis pumps and other sexual health devices, penis traction devices aren't really suitable for resale after use due to the associated health and safety concerns.
You also get a SizeGenetics instructional DVD hidden inside the lid which has some pretty dated videos and written guides, along with a key for the case lock – it's basic but effective.
Beyond the device itself you also get a silicone tube, comfort strap, protection pad, no slip protech and some comfort plasters. These comfort accessories can be used in 16 different combinations in what SizeGenetics call their comfort tech system, to provide comfort and support when wearing the SizeGenetics device. We'll come onto how these are used in the How to Make SizeGenetics More Comfortable section (below).
Product Photos
13 images in this collection
Yes, i do actually own a SizeGenetics device unlike the many hundred of fake reviews on the web. No airbrushing, no effects, no expensive photography studio – just raw, real photos of the SizeGenetics device as it looks on my desk!
How to Use SizeGenetics
On face value the SizeGenetics device looks rather complex and some might even joke it looks a little like a medieval torture device. That said, once you've put the device together, it's actually really rather straightforward and simple to use – the big challenge is finding the right traction based on the size of your flaccid penis and combining the accessories for the best possible comfort.
In this section of my review, I'm going to take you step by step through how to measure your penile length, assemble your SizeGenetics device, as well as how to put it on, make it more comfortable and highlight when and where you can use this traction device for best results.
Measure Your Penis
Before you start assembling your SizeGenetics device, it's very important that you measure the flaccid, non-erect length of your penis.
The length of your penis will ultimately determine which elongation bars you'll need to use initially – when assembling the SizeGenetics device (detailed below) you'll need to set the device to 1 centimeter longer than the fully outstretched length of your flaccid penis.
As an example, if your penile length is 14cm in length (which is approximately 5.5 inches), you will be setting the SizeGenetics device to 15cm.
If you're not sure how to measure the length of your penis, take a look at my easy to follow video below which details exactly how to measure yourself.
How to Assemble SizeGenetics
Having determined the flaccid length of your penis, we can now assemble the SizeGenetics device. It might look rather complex but actually it's really rather easy to assemble.
Make sure the adjustable hands screws are approximately 1mm from the edge of the basal ring – tighten them too much so they are touching the basal ring and you'll find them very difficult to unscrew.

Measure from the base of the device (the basal ring) to the end of the extension bars – by adding additional extension bars you can increase or decrease the length of the SizeGenetics to suit your flaccid penis size taking into account the extra 1cm you'll need to add.
Taking either the rubber strap or silicone tube and feed each end through the plastic support. If using the comfort strap, ensure the arrow on the rubber strap is facing upwards and pointing away from you. Once the rubber strap or silicone tube is threaded through the support, you'll likely need to adjust the length to ensure you have enough room to feed your penis through the loop.
Slip the support with rubber strap/silicone tube onto the end of the traction bars – you're now ready to put on your SizeGenetics device.
How to Put on SizeGenetics
With the SizeGenetics assembled we now need to put the device on. I've seen numerous videos on the likes of Youtube, of men putting the device on incorrectly – namely trying to compress the elongation bar springs whilst attempting to put the extender on. This is not the best approach for putting on the SizeGenetics device.
Place your flaccid penis through the basal ring ensuring the indent in the ring is at the bottom, under your penis.

With the basal ring against your pelvic region, use one hand to hold the device, and the other to pull your penis to it's fully outstretched, non-erect length. If you have measured correctly the flaccid outstretched length should be marginally longer than the assembled device.
Feed the head of your penis through the comfort strap or silicone tube and then, (using the hand that was initially holding the extender) tighten the comfort strap or silicone tube behind the glands of the penis. At this stage your penis should be naturally stretched to its fully flaccid length however there should not be any tension applied.
You should now be able to remove your hands from the device and the SizeGenetics should be holding your flaccid penis in a fully outstretched state. If your penis is not fully stretched to its natural flaccid length or you can feel the extender starting to stretch your penis beyond it's natural length you'll just need to remove the device and then shorten or lengthen the extension rods.
We're now going to create the traction which will pull the penis beyond it's naturally flaccid full length and start the long, drawn out process of stretching the penis to make it bigger or correct curvature. Using your thumb and index finger of both hands to turn both nuts in an inward direction. As you rotate the nuts you'll feel the tension building – keep rotating until you reach third mark (unless you experience pain or discomfort). When you reach the third mark, you're at 1,200 grams of tension. Continue twisting the nuts and at the second mark you're at 2,000 grams and at once you reach the first and final mark you've reached the full 2,800 grams of tension. connects to the bars.
NOTE: If you see the threads at the base of the device starting to appear you should stop turning. If you haven't reached the level of traction need, you simply need to add some additional elongation bars and try again.
How Long Should I Wear SizeGenetics For?
SizeGenetics is designed to be worn for prolonged periods of time, the recommendation is that you use the device for roughly 9 hours per day however that amount of daily usage is only for those that have been using the device for around 8 weeks.
It's also worth noting (having spoken to a number of SizeGenetics users and their customer support team) that the majority of SizeGenetics customers generally only use the device for roughly 6 hours per day so although the amount of time investment is rather high compared to using a penis pump, it is, in my view an attainable number of hours.
Below I've included the recommended usage times for wearing SizeGenetics on a daily basis – it is however worth noting that you should view these timescales as rather flexible and if you perhaps start seeing discomfort or pain, then you likely need to take a few "rest" days or reduce the daily number of hours usage.
SizeGenetics Exercise Routine (English)
| Week | 1 | 2 | 3 | 4 | 5 | 6 | 7 |
| --- | --- | --- | --- | --- | --- | --- | --- |
| Hours | 2-3hrs | 3-4hrs | 4-5hrs | 3hrs | 3-4hrs | 4-5hrs | <9 |
The above is purely a suggestion and will invariably depend on how much time you have to use the device on a daily basis, how fast you want to see results and what level of gains you're aiming for.
To further progress the weekly routines, I'd suggest starting at a low traction level (around 600g) and alternating between this and a higher traction level (say 900g). When you start a new week, with a higher number of hours, i'd recommend dropping back to a lower traction amount and again gradually alternating and working your way up.
Over the long term, having been using the device for months, or even years, you can obviously continue to increase the tension up to the maximum 2,800g limit that SizeGenetics offers.
Importantly remember that SizeGenetics is an all natural treatment for increasing penis size and/or correcting penile curvature – it takes time, so don't rush or push yourself too far, too fast.
Be a tortoise, not a hare! Take it slowly rather than trying to rush to the finish!
How to Make SizeGenetics More Comfortable
The SizeGenetics device (default extension bars, without comfort strap or accessories added) weighs in at approximately 111g – that's almost twice as heavy as the MaleEdge which is very lightweight at just 60g by comparison.
It's worth remembering that you're going to be wearing this traction device for many hours every day, so every gram of weight is going to directly contribute to the level of comfort you experience.
One key selling point of the SizeGenetics is what it calls it's 16 way comfort tech system – essentially 16 different ways to combine the strap accessories to achieve a level of support and comfort that is suitable for you.
The basic setup is using the rubber comfort strap on its own however you'll likely find this less than comfortable, more so when you've been wearing the device for a good couple of hours.
Ultimately it comes down to what combination of accessories is most comfortable for you, however find below a few examples of how you could setup your SizeGenetics device.
Comfort Strap with Foam Pad
Having added the rubber comfort strap, simply insert the foam pad for improved comfort. Remember the SizeGenetics should be used with a flaccid, rather than erect penis. Notably the foam pad isn't very stretchy.
Comfort strap with Foam Pad and Plaster
To further improve comfort, insert one of the provided plasters (now discontinued) inside the foam pad opening. The plaster is quite stretchy, whilst the internal surface has a soft, gel like feel for improved comfort.
Comfort Strap with Plaster and No Slip Protech
If you find the combination of foam pad and plaster (now discontinued) doesn't provide enough grip when in traction you can always use a strip of the No Slip Protech. This should be used in direct contact with the skin, regardless of the other comfort option(s) selected. Here I've combined the Plaster and No Slip Protech together.
Silicone Tube
The silicone tube is the most problematic of SizeGenetics comfort accessories. After more than 20 minutes struggling, i still couldn't get the tube through the holes in the comfort mount. I ended up grabbing the silicone tube from my X4 Labs Extender (now discontinued) which is fractionally thinner and fits the SizeGenetics comfort mount perfectly.
Silicone Tube with Foam Pad and Plaster
If you find the silicone tube (detailed above) gives you a better, more secure fit (I find this is generally better for me due to being circumcised), then you can then add the other accessories in combination such as the foam pad and gel plaster (the plaster now discontinued).
Silicone Tube with Foam Pad and No Slip Protech
As done with the rubber comfort strap, you'll need to combine the different comfort accessories to find what is most comfortable for you and your penis. In this example I've combined the silicone tube with both the foam pad and a strip of No Slip Protech.
The combinations are pretty endless – around 58 in total – so it really does just come down to what you find comfortable especially when wearing the device for prolonged periods of time.
It's also important to remember that for comfort but also for the health of your penis, the SizeGenetics device (and in fact any penis extender) should be removed approximately every two hours.
When the device is removed you should gently massage the penis with your hand for a couple of minutes to stimulate blood flow prior to reapplying the device. Failure to do this regularly can lead to numbness and discomfort so it's very important especially if you reach the recommended 9 hours daily usage.
Wearing SizeGenetics to Work
For those that don't have a physically demanding job that involves a lot of movement – for example those that perhaps work in an office environment – SizeGenetics can potentially be worn for work.
I would highly recommend that if you consider or try wearing SizeGenetics to work you do so whilst wearing loose fitting trousers/pants and underwear whilst also keeping movement to a minimum.
The more you move, the more likely it is for the traction device to rub or irritate the skin, whilst given the size of the device, it might also raise some questions from observant coworkers which could then lead to quite the embarrassment in the workplace!
Personally I'd only ever wear a penile traction device in the privacy of my own home, during the evenings or at weekends. During the first few weeks of usage this is attainable due to the low number of hours suggested wearing the device however as you progress and increase wearing the SizeGenetics for long, this could potentially prove problematic.
Sleeping with SizeGenetics
Given the amount of time it's recommended to wear the SizeGenetics device, especially if you're very eager to get the best results in the shortest possible time, it might be tempting to wear your SizeGenetics device in bed.
There are a number of reasons why you shouldn't wear your SizeGenetics device in bed (although the official SizeGenetics website does quote that you can "try" wearing it in bed, although I'd personally advise against it).
Keeping track of how many hours you wear the SizeGenetics is very important and allows you to track your progress based on the number of hours worn. If you're asleep and in bed, the SizeGenetics could potentially fall off when you're not awake and as a result you wouldn't be able to keep an accurate record of how long the device has been worn for.
We all toss and turn during the night and if the SizeGenetics gets caught in the bed sheets or you roll on top of the device, this could end up being rather painful and potentially causing an injury.
Erections naturally occur during the night (whether we're aware of them or not) and as a result the penis will become larger and longer. SizeGenetics and the length of elongation bars used is designed based on the full, outstretched flaccid length of your penis – having an erection whilst you sleep could therefore potentially cause discomfort.
Ideally you should be removing the SizeGenetics device approximately every 2 hours. This gives you the opportunity to massage the penis, improving blood flow to the penis whilst also giving the opportunity to adjust the settings on the device in the event you need to attain a slightly better level of comfort.
If you're looking for a solution you can wear in bed, then i'd definitely recommend having a look at Phallosan Forte which uses the same concept of traction as penis extenders but instead provides (in my view) a more comfortable and flexible solution to stretching the penis.
Money Back Guarantee
Given the build quality of SizeGenetics and what other competitor products in the penis extender industry offer, it's no surprise that SizeGenetics offers an equally competitive money back guarantee.
The guarantee ensures you get all your money back if SizeGenetics doesn't work for you – whether that be increasing your penis size, or correcting penile curvature – however there are a number of requirements to ensure you've used the device correctly and for long enough prior to the money back guarantee being awarded.
To qualify you'll need to:
Take a photo of your penis before you use SizeGenetics for the first time – this should be done with a ruler to illustrate your erectile penile length
Use SizeGenetics for 120 days (4 months) – speed of results vary user to user, hence why you need to use the device consistently, every day during that period of time
When using the device, ensure you wear it for a minimum of 5 hours daily, with a minimum of 1200g of traction (the lowest traction setting)
Log each session using the SizeGenetics device using the provided online "My Diary" tool. This allows you to chart your sessions and progress.
If after 4 months you haven't seen an increase in size, or a reduction in curvature, contact the SizeGenetics support team via their website whilst also providing a further "after" photo to illustrate the results after the 4 months of usage
SizeGenetics allows you to raise a Money Back Guarantee request within 6 months of purchase so you have plenty of time to use the device for a 4 month period.
In all honesty it's very, very unlikely that SizeGenetics won't work for you.
Given this penis extender has been stringently tested by the likes of the FDA (classifying it as a type 1 medical device) and having been bought by countless thousands of men over the course of more than 10 years, I'm sure it's a rarity that any SizeGenetics customer ever needs to take advantage of the money back guarantee.
Packages & Pricing Analysis
Beyond the SizeGenetics replacement parts and accessories which can be purchased via the official SizeGenetics website for returning customers, you have the choice of 4 different packages with variable pricing and accessories.
SizeGenetics Pricing (English)
| | Value | Comfort | Curvature | Ultimate |
| --- | --- | --- | --- | --- |
| Extender | ✔️ | ✔️ | ✔️ | ✔️ |
| Dual Support | ✔️ (2) | ✔️ | ✔️ | ✔️ |
| Comfort Strap | ✔️ | ✔️ | ✔️ | ✔️ |
| Protection Pad | ✔️ | ✔️ | ✔️ | ✔️ |
| Silicone Tube | ✔️ (3) | ✔️ | ❌ | ❌ |
| No-Slip Protech | ✔️ | ✔️ | ❌ | ❌ |
| 3M Adv Plasters | ✔️ (2) | ❌ | ❌ | ❌ |
| 1" (2.5cm) Bars | ✔️ (2) | ✔️ (2) | ✔️ (2) | ✔️ (2) |
| 2" (5cm) Bars | ✔️ (4) | ✔️ (4) | ✔️ (2) | ✔️ (4) |
| 0.5" (1.25cm) Bars | ✔️ (2) | ✔️ (2) | ❌ | ✔️ (2) |
| Revita Cream | ❌ | ❌ | ❌ | ✔️ |
| Traction+ Powder | ❌ | ❌ | ❌ | ✔️ |
| Product Case | ❌ | ❌ | ✔️ | ❌ |
| Leather Case | ✔️ | ✔️ | ❌ | ✔️ |
| Case Keys | ✔️ | ✔️ | ❌ | ✔️ |
| 1 Year Warranty | ✔️ | ✔️ | ✔️ | ✔️ |
| 1k Hour Guarantee | ✔️ | ✔️ | ✔️ | ✔️ |
| Price | | | | |
Each package is aimed to address factors such as price, comfort and the reason for using the penis extender – whether for penis enlargement, curvature correction or both.
Where to Buy SizeGenetics
Over the last few years I've seen dodgy imitation versions of SizeGenetics appearing on Amazon, Ebay and even Aliexpress. In some cases it's someone trying to sell a used product that they no longer want, or someone attempting to cash in on the SizeGenetics brand and sell a counterfeit version of the product – either way these sites should be avoided!
It's worth understanding that SizeGenetics is a class 1 medical device, and as such has to be assessed by the FDA – this isn't optional, but a requirement.
Failure to do so would ultimately mean the device would have to be withdrawn from the market and wouldn't be available for purchase in the United States.
To ensure you only ever buy a legitimate SizeGenetics device that is tested and approved by the FDA, you should always purchase this traction device from the official website.
Unlike other traction devices (such as MaleEdge), SizeGenetics is only available for purchase from the official website and is not sold through any third party sites (at least not at the time of writing this review).
My Verdict
There is absolutely no denying that SizeGenetics works however that doesn't automatically mean I'd recommend it (as you'll learn at the end of my SizeGenetic review).
It's a class 1 medical device based on medical science – a penile traction device that has been tested and recognized by numerous medical professionals and clinical organizations as an effective and viable means of penile enhancement and correction of penile curvature.
SizeGenetics for Length Gains
Based on the SizeGenetics website, this penis extender is primarily marketed as a penis extender – a method of increasing the size of the penis, specifically in terms of increasing the length of your member.
Beyond the SizeGenetics' ability to make your penis bigger in length, their website does also reference the ability of this traction device to overcome micro penis syndrome – a medical condition where the penis is less than 2 inches in erect length.
Based on the design of the SizeGenetics device, if you're willing to spend the required countless hours wearing this device, then there really isn't any reason why you won't start seeing some notably length gains after 4 months of usage, whilst the variety of extension bars on the pricer packages, do mean you're unlike to outgrow your SizeGenetics device.
SizeGenetics for Girth Gains
If you're looking for girth gains, unfortunately any increase in thickness is going to be very, very limited and likely barely noticeable.
The concept of a penis stretcher is to apply prolonged traction to the penis essentially "stretching" it as the name entails.
This process could in fact, potentially decrease the girth of your penis by a very small amount however not by any real quantifiable amount.
What you could potentially do, in an attempt to increase the girth of your penis when using SizeGenetics, is take a male enhancement supplement such as VigRX Plus or Max Performer.
These will improve blood flow to the penis and combined with the traction from SizeGenetics might (and I emphasise might), allow the spongy tissue in your penis to thicken, hence resulting in a thicker penis when erect.
SizeGenetics for Curvature Correction
If you suffer from curvature of the penis whether as a result of genetics or Peyronie's Disease, penile traction devices are a proven, effective and natural method for correcting curvature.
For those with Peyronie's Disease that is less than a 25 degree curvature, due to the cause of curvature being a buildup of plaque, in my view a penis pump such as the VaxAid Deluxe is the best solution – it's highly effective but also you only need to use it for 15-20 minutes a day.
For those with Peyronie's Disease that is more than 25 degrees, or for those with congenital penile curvature caused by genetics (rather than plaque), the SizeGenetics device is a good option for correcting curvature of the penis.
If you've not already done so, I'd highly recommend having a look at my article on Do Penis Pumps Work, whilst the sections on Peyronie's Disease and Penile Curvature, will be of specific interest to those considering a penis pump over a traction device such as SizeGenetics.
Considering whether SizeGenetics was a worthwhile purchase was, if I'm honest, a rather tricky decision to make hence why it's fallen into my "maybe" group of recommendations.
I honestly think for penis enlargement, a penis pump (specifically one of those from the Bathmate HydroXtreme range which I've reviewed here) is the better option. 15 minutes usage of a pump compared to 5-10 hours of extender usage every day is a no brainer in terms of time investment.
That said, I think if you have curvature of the penis as a result of genetics or Peyronie's disease, a traction device like SizeGenetics is going to be a much better fit however i'm still not sure if SizeGenetics is really the best device of its type to buy.
The big hurdle for me is price and value for money.
If you want the best quality penis extender on the market, then SizeGenetics is the product for you purely down to the fact that it's been assessed and approved by the FDA – the majority, if not all other extenders on the market simply don't have this quality control.
On the other side of the argument though, the price of SizeGenetics is quite high, there are a lack variety of accessories (which you tend to get as standard on other competitor traction devices), whilst weight and comfort isn't exactly great (but that goes for most of the other extenders)
For the SizeGenetics Comfort Package that I bought (notably not the most expensive SizeGenetics device), when compared to MaleEdge, MaleEdge is considerably light and you have much more control over the amount of traction applied when worn, not to mention the price – the top of the range MaleEdge Pro is significantly cheaper than SizeGenetics.
There is also another alternative to SizeGenetics and other penis extenders of this type, and that's a product like Phallosan Forte which is a lot lighter, more discreet and considerably more comfortable for long periods of time.
I'm not denying the SizeGenetics device is a good penis extender – it really is and has excellent durability and build quality which you'd expect from a type 1 medical device – but on value, price and feature, it really does fall short in a highly competitive and evolving market.
Put simply if you buy SizeGenetics you're not going to be disappointed in terms of quality and results but I do think most will end up wondering why they didn't opt for MaleEdge or indeed Phallosan Forte – the latter being a product that I believe truly overshadows the modern day extender market.
Ultimately the choice is yours – you simply need to weigh up quality, durability, weight, time investment and of course… price!
Summary
SizeGenetics is heavy, expensive, has to be worn for hours daily and quite honestly is rather poor value for money despite it's high build quality. If you're looking to correct penile curvature or Peyonrie's Disease it'll get the job done but if your looking for penis enlargement you'd be much better of with a Bathmate penis pump. Put simply penis extenders are ultimately going the way of the dinosaurs! Personally I'd opt for a ProExtender
as this offers better value for money in my eyes!
This Content Was Written By...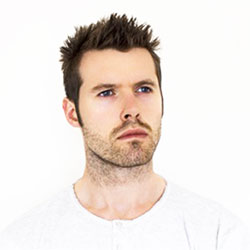 Chris is the owner and creator of Penis Enlargement Resource. He has years of knowledge in the male enhancement niche and has tested and assessed numerous products over the years.