Bathmate HydroXtreme Review
Product Overview
The Bathmate HydroXtreme offers the top of the range Bathmate penis pump with the added benefit of a hand ball pump. You also get a host of additional accessories to help store, clean and look after both your pump and penis.
Last updated 12 September, 2022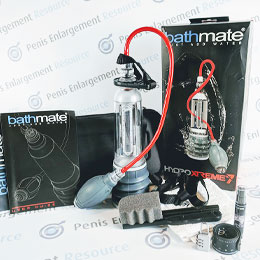 Pros & Cons
World's Most Power Pump
Expensive But Effective
Handball Pump
Certified Skin Safe
Quick Stats
5 Sizes Between 3 to 11 inches
to based on size
2 Year Warranty
Free Worldwide Shipping
Want More? Keep reading for my full, in-depth Bathmate HydroXtreme review!
Table of Contents
[ Hide ]
Detailed Overview
The Bathmate HydroXtreme series of penis pumps by the market leading brand Bathmate
– this series of devices is quite simply, the Rolls-Royce of water based vacuum pump devices and it's no surprise it's the #1 vacuum device in my best penis pump guide.
A step up from the hugely popular Hydromax series, the HydroXtreme offers the most power, comfort and accessories of any other penis enlargement pump in the world.
Not only does the range of Bathmate HydroXtreme pumps offer the most complete package for potential size gains, it also attracts a considerably higher price than the Hydromax version, now only beaten by the Bathmate Ultramale
package which still includes the HydroXtreme but with a large heavy duty case and every accessory you could ever wish for.
In this review i've got my hands on a HydroXtreme7; a midsized device designed for those looking to achieve between 5 to 7" in erect penile length.
Each pump in the HydroXtreme Series essentially includes exactly the same design of device and accessories and varies only in terms of size and price (which we'll come onto a little later).
Unboxing
Delivered by DHL in a white shipping box, the HydroXtreme7 was (like all products I've received) shipped very discreetly.
There is mention of DX Products (the company behind Bathmate) as well as reference to the contents being a "water pump" but other than that, nothing specific that could really identify the contents as something adult or sexual in nature.
Inside the shipping box you'll find a rather large retail box (even for the HydroXtreme7 version) measuring 18cm x 16cm x 38cm which weighs in at a rather heavy 1,330g – obviously the bigger cylinder versions have even bigger, heavier boxes!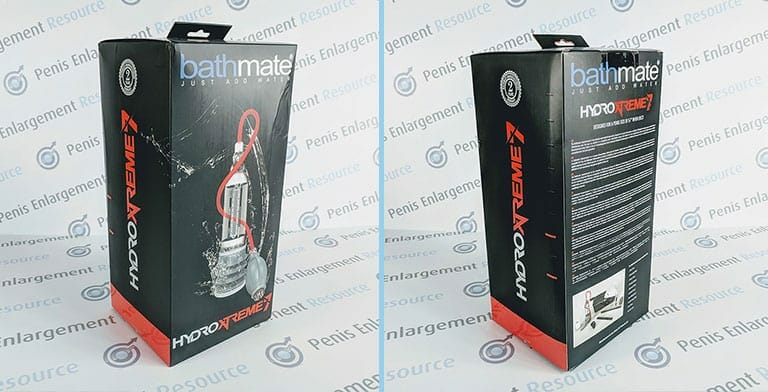 The retail box is black with vivid product images and logos, sports a 2 year manufacturing warranty badge and on the back provides a brief summary of the product and contents in 10 different languages – a nod to the fact that Bathmate is truly a global, internationally available brand.
Once inside and with the retail box discarded, you'll find the new (updated 2021) faux leather black Bathmate carry case which is zip closed and contains the main Bathmate HydroXtreme pump and accessories.
So what do you get in the carry case?
Bathmate HydroXtreme Pump
The first impressions of the Bathmate HydroXtreme7 penis pump is that of a premium, streamlined and rather compact hydro penis pump.
The level of quality is hardly unexpected – Bathmate are regarded as the most established hydro penis pump brand in the world having manufactured and sold millions of pumps across their entire range since launching more than 15 years ago back in 2004.
The HydroXtreme range of penis pumps is by far their flagship product however you'd be forgiven for thinking (at least at a glance) that the HydroXtreme7 is identical to the Hydromax Series of devices.
To be perfectly honest I (incorrectly) presumed that the only difference between the HydroXtreme series and the Hydromax series of pumps was the fact that you get a bundle of accessories including the exclusive hand ball pump (which you can only get when you purchase a pump from this specific range).
On closer inspection the big difference (as you'll see in the below photo – HydroXtreme on the left, Hydromax on the right) lies in the quick release valve mechanism.
To accommodate the inclusion of the handball pump and associated hose connector, the HydroXtreme has a less rounded release valve with a slightly pitted grove that contains a small rubber seal.
This groove allows the end of the hose connector to be securely inserted into the top of the penis pump, whilst the rubber seal ensures a firm and airtight connection.
The improvements and alterations to the valve cap and mechanism doesn't stop there though.
At the top of the release valve a black pip in the centre of the valve cap (as you'll find on all other versions of Bathmate) allows you to set the valve in an open or closed position (no change there) however the valve itself can be rotated from a locked to unlocked position.
Regardless of the position of the pip, when in the unlocked position, the quick release valve mechanism can be used – this allows you to push the valve cap downwards giving quick, easy release of pressure.
I'm going to be completely honest, the release valve mechanism on the Bathmate is probably my most disliked feature.
After just a couple of minutes moving the black pip from the open to closed position (which in some instances was rather difficult – the pip didn't always want to easily click into position), my thumb was starting to hurt.
In some instances (due to the small amount of travel the pip makes when you open and close it), despite the Bathmate pointing downwards in the default position, it was also a little difficult to get the pip to lock into the closed position.
It's a small gripe and ultimately doesn't impact the effectiveness of the HydroXtreme pump; i'm sure with more practice I'd get used to the two different mechanisms used to lock and unlock the release valve.
It's also worth noting that in the unlikely event that you drop and break the release valve on the HydroXtreme, you can get a replacement valve which is quick and easy to swap out. A much better solution than having to replace the entire cylinder which is the case with some cheap, inferior pumps.
Moving further down the HydroXtreme device past the release valve, the cylinder width increases and we find pretty much exactly the same cylinder and bellow design as you get on the Hydromax series of Bathmate pumps.
You'll find a sticker applied to the outside of the cylinder which features not just a measurement scale but also the Bathmate and HydroXtreme7 logo, some instructional pointers and your unique PID number (used to register your Bathmate penis pump to ensure it's genuine).
Where the cylinder ends and the bellow pump beings, there is a distinct grey plastic ring that overlays the top edge of the bellow and securely connects the cylinder and bellow together whilst also allowing the bellow to be rotated a full 360 degrees.
The top of the bellow has a few additional notches allowing you to easily identify the default position, a raised pip to line up the comfort insert pad and a curved base to match the contours of your groin region – this in the default position allows the Bathmate device to point at a slightly downward angle.
All in all its a high quality pump that will clearly stand the test of time and a step up in terms of features when compared to the Hydro or Hydromax series of Bathmate pumps.
Accessories
There are 9 accessories that come with each Bathmate HydroXtreme – some are cheap little extras, whilst others really help you take your sessions with the Bathmate to the next level!
Below you'll find a summary of each accessory, ranked from most to least useful (well at least in my eyes).
Hand Ball Pump
Without a doubt, one of, if not the biggest reason for choosing the HydroXtreme over any other penis pump in the Bathmate range is the inclusion of the hand ball pump.
Out of all the accessories that Bathmate offers, this is the ONLY accessory that cannot be purchased individually – you literally only get this if you buy a HydroXtreme.
The ball element of the pump combines an oval shaped hard grey rubber that weighs in at 110g. This is pretty heavy in my view, more so when you add that to the weight of the Bathmate device filled with water. This is less of an issue if you use your Bathmate in the bath, however for regular or exclusive shower usage especially for longer pumping sessions this added weight can and does become quite notable (especially when attached using the included hose).
The ball can be held against the Bathmate release valve directly (although won't properly insert or attach to the valve) or can be attached via the provided red hose attachment. The hose notably inserts fully into the valve cap over the pip and is easily well fitting enough to leave the hand pump dangling from the device when not in use.
As you compress the ball pump (which i might add is rather stiff and ridge making my hand hurt after barely 5 or so compressions – and i've not got particular small or weak hands), this takes over the action of having to compress the Bathmate handball pump down onto your groin region essentially making the action redundant for session other than the initial few pumps to gain suction at the beginning of a session.
As the pressure builds, water is then expelled from the end of the hand pump having travelled along the hose.
The quality of the assembled hand ball pump cannot be faulted and it offers a much needed pumping alternative that is normally found as standard on air only penis pumps however the ball pump is stiff and hard to compress (even for someone with a good, strong grip) whilst inherently ball pumps simply don't have the capacity or ability to produce the same level of pressure that a trigger based pump can achieve by comparison.
The Bathmate hand ball pump is a great addition and selling point of the HydroXtreme range however with long-term usage you could easily find its too stiff or difficult to compress.
In that situation you'd likely be left wondering why you didn't simply opt for one of the cheaper Hydromax models and select a couple of accessories separately based on what you felt you actually need.
For example a Hydromax7 with a (smaller) carry case, shower strap and comfort insert (all purchased as individual accessories) works out at roughly $253 (around $46 cheaper).
Comfort Pad Insert
The Bathmate Comfort Insert Pad (as the name suggests) adds more comfort when using the Bathmate pump.
Inserted into the bellow/gaiter of the HydroXtreme (although it does also fit both the Hydro and Hydromax series of pumps as well), provides more cushioning against your skin.
Not only does it improve the comfort from the downward action of compressing the bellow onto your groin region which at the very least you'll be doing at the beginning of every pumping session, the comfort insert pad also (due to its rubberised texture) improves the seal between the device and your skin resulting in improved suction.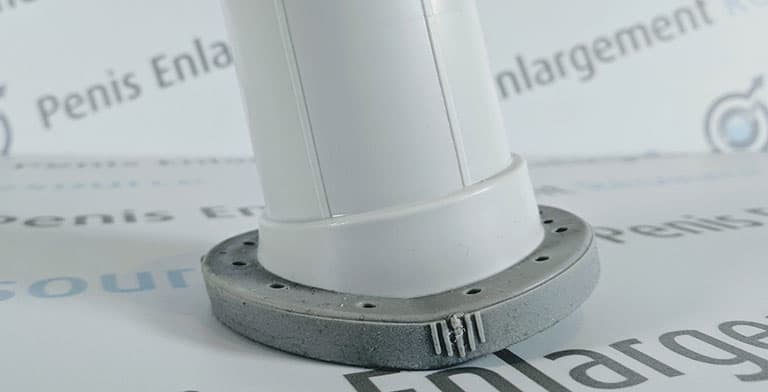 For ease of use and alignment, you'll find a small pip on one edge of the comfort pad – this can be lined up with the equivalent pip indicator on the Bathmate pump to ensure you have the pad inserted and positioned correctly.
One drawback of using the comfort insert pad is the reduction in overall girth – you lose approximately 1cm in diameter with the pad inserted.
Without a pad the diameter of the Hydromax7 measures roughly 6cms (2.36 inches), whilst inserted this drops to 5cms (1.96 inches).
If girth is a consideration or you feel there isn't enough "growing" room, then I'd definitely recommend opting for the HydroXtreme7 Wide Boy version which offers a fit perfect for those with up to 6.5 inches of girth.
As an added precaution (especially if your circumcised) just be a little weary when removing your erect penis from the device as if you're not careful the head of your penis does have the potential to catch on the inside hard plastic insert edge of the comfort pad.
Carry Case
With a premium feeling black hard shell, the Bathmate carry case features a carry strap, an additional metal loop and a grey double zip which the provided number coded padlock can be locked through.
Inside lid has some convenient netting to hold some items in place in an attempt to keep things a little more organised; perfect for storing the ruler, shower strap and even the disassembled hand pump and hose.
It's discreet, there is no logo or branding, and at a glance could quite easily be overlooked as a padded photography case or something similar.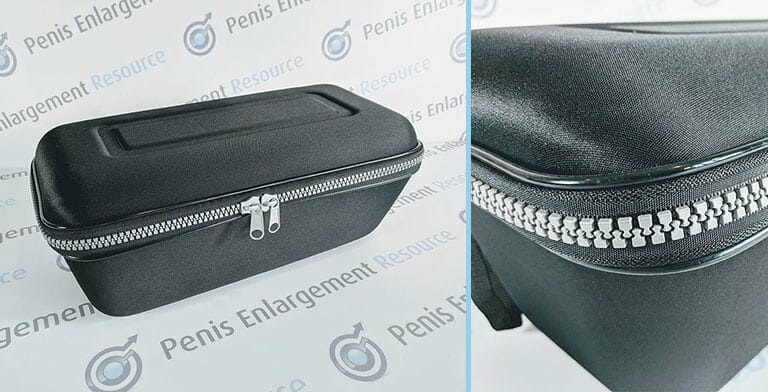 It's got a bit of flex to it and hasn't got any real padding on the inside (hence when all the plastic packaging is removed, things do move around a little) however does and will provide more than adequate protection even when you're travelling.
Compared to the standard carry case which can be purchased individual via the accessories store, the HydroXtreme version is bigger and taller and more than able to contain all your existing accessories and any additional ones you opt to purchase in the future.
Shower Strap
For those that are planning on using any water based penis pump in the shower (rather than the bath) a shower strap is an absolute must.
Not only are penis pumps a little weighty to start with but when you add water, they can easily triple in weight which, for 15 minute pumping session can be quite the strain – even more reason to use the before mentioned shower strap.
The Bathmate shower strap is, i've got to be honest just a bit… basic.
One end has a plastic ring grip that you place over the end of the Bathmate release valve (and notably fits all Bathmate versions), whilst the other has a plastic clip that allows you to increase or decrease the length of the strap that goes around your neck.
It's made from durable material which is absolutely fine if it gets wet although given the weight of what it will invariably be holding, does lack any additional comfort padding for your neck.
It's functional, effective but ultimately just a little basic. The Bathmate Shower Strap if purchased separately is priced at
Security Lock
It's not going to stop somebody with bolt cutters, but the security lock included with the HydroXtreme does offer some added privacy from potentially prying eyes.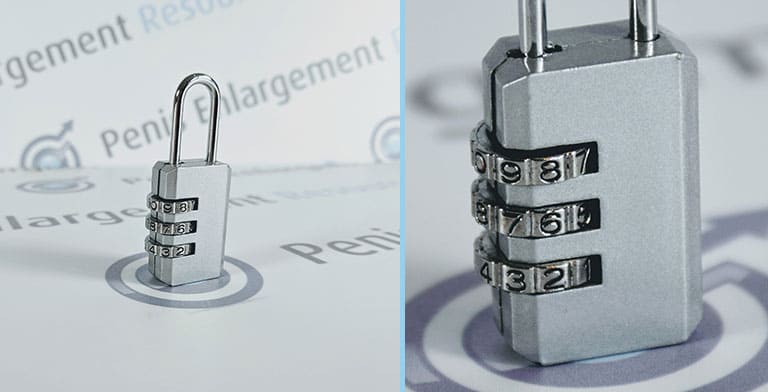 The security lock is made from metal, making it highly durable and for ease of use, instead of including a key (which could potentially be rather easily lost) there is a combination lock which consists of 3 dials. Plenty of choice where setting your 3 digit, numerical access code is concerned.
The zip on the carry case features holes that the padlock can then be easily threaded through, locking your contents away until your next session.
Measuring Gauge
For something so simple, I actually absolutely love this accessory!
Instead of including some cheap plastic ruler, the Bathmate measuring gauge feels premium and high quality.
It's made from silicone rubber (making it easy to grip when wet) and also features a slap band design – this means that as a ruler it is straight and rigid for measuring, however with a quick bend will essential curl or roll up on itself make it much smaller for storage.
On one side you'll find the Bathmate logo and slogan – Just Add Water – whilst on the reverse it features measurement scales in both centimetres and inches. If you were to buy this separately, it'll set you back around .
Cleaning Sponge
The cleaning sponge consists of a black plastic rod (which comes in two parts and clips together) with a two-pronged grip at one end to hold a grey (and slightly sparkly) sponge.
Fully assembled the Cleaning Sponge and bident can reach the full internal length of the HydroXtreme7 and would be more than long enough for the larger, longer Bathmate versions from any series.
It's a nice added extra of an accessory, although to be perfectly honest, if you give your Bathmate penis pump a good wash with hot, soapy water, there really isn't any need or reason to buy this as a separate accessory.
It's good to have, but hardly essential but if you've got a spare , then why not!
Bathmate Cleaning Spray
A small spray bottle of the cleaning solution – at just 12ml's it's not going to clean your device many times and whilst you can purchase a larger 100ml bottle for around , personally i'd just stick with hot soapy water which, if done after every pumping session should be more than adequate in keeping your Bathmate device in pristine condition.
Bathmate Towel
It's soft, white and fluffy and features the Bathmate logo. Great for a quick wipe down of your device just to ensure its dry or alternatively for use as a warmup cloth for those looking to warm up or down when jelqing before or after a Bathmate pumping workout.
Product Photos
22 images in this collection
Thanks to the generous team over at Bathmate, we've got our hands on a top of the range HydroXtreme7.
Be warned, there are lots of fake product review sites on the internet, so if your reading a Bathmate review and can't see any unique photos or videos, chances are the person writing the review has never even seen, let alone used a Bathmate product.
For authenticity you'll find a set of photos that I've taken of the actual Bathmate HydroXtreme penis pump that i received for review.
Unlike so many other reviews on the web, my review is legitimate and based on having the product right in front of me, on my desk!
Counterfeit Products
Since 2004 Bathmate have grown substantially as a brand.
Across the Hydro, Hydromax and HydroXtreme series, Bathmate offers 10 different devices, 5 of which are offered in multiple colour options (clear, blue or red).
The Bathmate brand is sold across the globe and, given its mass popularity there are numerous fake and counterfeit Bathmate products on the market.
These illegitimate copies in many cases look almost identical to an official Bathmate penis pump but are produced using cheaper, weaker, inferior materials.
If you've not already our article on the dangers of penis pumps, scrimping on price and choosing a poor quality, fake or counterfeit product can have dire consequences.
Wherever your based and whatever your budget, i'd highly recommend purchasing an authentic Bathmate penis pump directly from the manufacturer website – BathmateDirect.com
– the only official online store run by Bathmate themselves.
For further information take a look at the counterfeit education page where you can check a database of authorised online retailers as well as submit suspicious website selling potentially counterfeit Bathmate products.
Every legitimate Bathmate includes a PID number which is included on the measurement scale found on the cylinder – this PID number is used to prove your Bathmate purchase is authentic and to activate your 2 year warranty.
To register and confirm you have a genuine Bathmate product complete the registration form on this page
and follow the instructions.
Pricing Analysis & Sizes
The Bathmate HydroXtreme Series offers 5 different devices – each offering exactly the same pump features and accessories, varying only in terms of cylinder size and product price.
Unlike the Bathmate Hydro Series and Bathmate Hydromax Series which come in 3 different cylinder colours, the HydroXtreme range of pumps are only offered in clear cylinder plastic.
Although all versions of the Xtreme series can be used with a starting minimum length of 3″ it's recommended that you choose a device size based on (or close to) your starting size.
As an example, there is really no point in purchasing the HydroXtreme11 if your starting size is 6″ – you'd be better off with the HydroXtreme7 or HydroXtreme9.
The following table details the suggest minimum and maximum length, maximum girth and pricing based on your location.
Bathmate HydroXtreme Sizing & Pricing (English)
| | Min Length | Max Length | Max Girth | Price |
| --- | --- | --- | --- | --- |
| HydroXtreme3 | 1" / 3cm | 3" / 8cm | 6.5" / 16.5cm | |
| HydroXtreme5 | 3" / 8cm | 5" / 13cm | 6.5" / 16.5cm | |
| HydroXtreme7 | 5" / 13cm | 7" / 18cm | 6.5" / 16.5cm | |
| HydroXtreme7 (WB) | 5" / 13cm | 7" / 18cm | 7.6" / 19cm | |
| HydroXtreme9 | 7" / 18cm | 9" / 23cm | 7.6" / 19cm | |
| HydroXtreme11 | 9" / 23cm | 11" / 28cm | 8.5 / 21.5cm | |
If you're still not entirely sure how to measure the size of your penis or you simply don't know which Bathmate version or size you need to buy, make sure you take a look at my Which Bathmate to Get article which includes video that contains all the information you need to know when buying your Bathmate device.
My Verdict
The Bathmate HydroXtreme series of penis pumps is, quite honestly a fantastic and worthwhile purchase.
The combination of warm water, pressure and a regular, 15 minute session 4-5 days a week ultimately help me to increase not just the length of my penis, but also the girth as well (something that penis extenders really struggle to do).
I've already seen results from the Hydro7 and the Hydromax Series so it didn't come as a surprise that the Bathmate HydroXtreme has just as much potential to achieve some really good results.
Sure you can achieve results with one of the lower priced Bathmate models and if your a beginner with a penis pump, the HydroXtreme could be viewed as a bit over the top if you're only just getting started, but as long as you choose a size that gives you ample room to "grow" then it's likely going to be a couple of years until you need to change or upgrade to a large size.
Needless to say, this product will stand the test of time and will work just as well after 1 or 2 years, as it did on day 1 – the fact that this is the only FDA assessed hydro penis pump on the market is testament to that.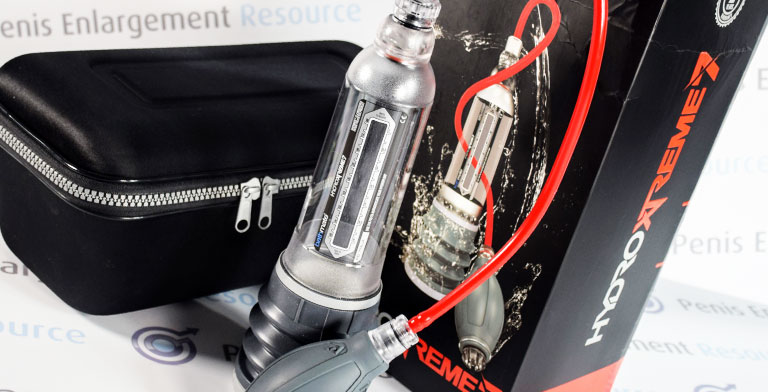 Quite simply you can't (currently) get a better penis pump than the HydroXtreme – its got amazing durability, the build quality is faultless but more than anything its a penis pump that can get the job done – whether that be a solution to improving symptoms of erectile dysfunction or potentially increasing the length and girth of your penis.
Although there are some areas where the HydroXtreme could improve (such as the tension in the handball pump making it hard to squeeze and a still rather fiddly release valve), it definitely stands out as the best penis pump when compared against all the other pumps I've tried and tested and that's why the HydroXtreme is my #1 ranked penis pump.
You do get a load of accessories and extras which is really great, however in my view the comfort and level of pressure you get from the HydroXtreme is still superior to that of the Hydromax Series – testing between the Hydro7 and the HydroXtreme7 and that difference is even more apparent.
I think there are a couple of reasons why you might not want to choose a HydroXtreme – the cost (obviously), the privacy required to access a bathroom (for use with water) and if your penis has a curvature that is greater than 20 degrees in which case i'd suggest having a look at a SizeGenetics or Phallosan Forte device.
Bathmate are definitely top of their game with the HydroXtreme series of penis pump and if you can swallow the cost, this device really is worth the money!
The fact that from a recent Bathmate survey 93% of HydroXtreme users reported better erections, and 86% experienced size gains after just 2 months of usage, it's not just me that has the opinion that the HydroXtreme really can take your down belows to a bigger, harder level.
Summary
It might be expensive but the Bathmate HydroXtreme is well worth the money – especially given the fact that this it the only Bathmate hydro pump that includes a hand ball pump (making sessions using the device so much easier). Build quality, comfort, customer support and the array of accessories included are excellent, so it does really just come down to your budget. If you can't quite stretch to a pump from the HydroXtreme series, go for one from the Hydromax series instead.

Due to counterfeit products, please ensure you purchase via the official Bathmate website
This Content Was Written By...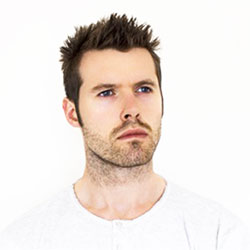 Chris is the owner and creator of Penis Enlargement Resource. He has years of knowledge in the male enhancement niche and has tested and assessed numerous products over the years.